Local African American History
This history celebrates the richness of African American culture in the area known as the St. Joseph River Valley Region by highlighting historic places. These historic places remind us of the contributions made by African Americans to our community. Many buildings relating to African American history no longer exist. Yet, information about these places lives on through historic records, photographs and newspaper articles. Another resource for learning about the people who built the buildings and African American community is through stories their families share with us. Many local African Americans have saved their family histories and have shared the information with the community by donating historical documents to The History Museum, local universities (https://www.iusb.edu/civil-rights/), and local libraries.
The Huggart Settlement
Although many early records have been lost or are incomplete, it is known that African Americans were among the early residents of St. Joseph County. They, like their neighbors, were often farmers or small business owners. Many of them were free Blacks and not fugitive slaves. Historical records indicate that African Americans settled in St. Joseph County, Indiana, as the United States Government Land Office opened land sales in the early 1830s.
The 1850 U.S. Census lists the Huggarts, an African American family, as living in a remote rural section of Union Township in St. Joseph County, just south of South Bend. Other Black families followed them and settled nearby, creating what is thought to be the first rural Black settlement in northern Indiana.  This part of Union Township was settled by both White and Black families who shared in the life of the community. They farmed, worshiped, attended school and socialized together.
Samuel Huggart was a free Black man from Montgomery County, Ohio. He applied for land in Union Township on September 11, 1834. Several years later he settled there with his family.  In 1860, another Black man by the name of Benjamin Bass bought property next to the Huggart's farm. Mr. Bass also purchased land in other parts of St. Joseph County, Indiana, and in Cass County, Michigan.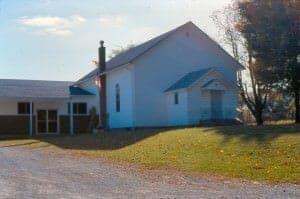 Other Black families arrived during the 1860s and 1870s and purchased land in this same square mile. The Black population grew to include 28 individuals.  The African American settlement area was just east of what today is known as Potato Creek State Park. The families were members of the Olive Branch Church, whose members were associated with the Quakers. The Quakers did not believe in the practice of slavery. Historical records show that members of this settlement were actively involved in their community. One served as a church trustee and others were charter members of the Porter-Rea Cemetery Association.
The settlement began with Samuel Huggart and was located within a mile radius of two known Underground Railroad stations, one of which was operated by Solomon Palmer, St. Joseph County's foremost White abolitionist. An abolitionist was a person who worked to end slavery.  Mr. Palmer had a mill in the middle of a forest about 10 miles south of South Bend. Runaway slaves came to his mill to hide as they journeyed north.
In 1861, Hardy Manual purchased land from Mr. Bass and built a log cabin home that still stands in Union Township. Prior to moving to the rural settlement, Mr. Manual was a carpenter in South Bend. The cabin's double dovetail corner joints testify to his woodworking skills.
The graves of many of the early Black settlers in St. Joseph County are located in Porter-Rea Cemetery in Liberty Township. This cemetery was the final resting place for many neighborhood families, both Black and White. Today, the cemetery lies within the boundaries of Potato Creek State Park. In the 1970s, farm land around the cemetery was purchased by the State of Indiana for this recreation area.  The cemetery today remains under the control of the Porter-Rea Cemetery Association which was formed in 1888 by both Black and White families who lived in the area. Many burials pre-date the formation of the Association.  Black settlement members and their descendants known to be buried at Porter-Rea Cemetery include: A.S. Boon, Rachel Boone, William H. Boone, Amanda Boone, Benjamin Boone, Jeanette Manual, Eliza Jane Manual, Samuel Huggart, Andrew Huggart, Jane Huggart, Maudie Huggart, Mary A. Huggart, Infant Huggart and Dila Bass.
Some of these tombstones can still be seen today.
The Huggart settlement began to dwindle in the 1890s as families moved into South Bend, where they found employment in the growing collection of industries.
Free Blacks and the Underground Railroad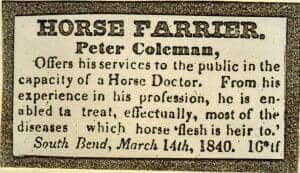 The first Black settlers known to have lived in South Bend arrived in 1839. They were Peter Coleman and Mariah White. Mr. Coleman was a farrier, or horse doctor, from Virginia. They were married in South Bend in June 1839. Mr. Coleman's business advertisement appeared in the 1840 Northwest Pioneer, South Bend's newspaper.  Other Blacks who lived in this area in 1840 included Joseph Huffman, a barber, and four individuals living in White households.
From 1849-1851, an important court battle took place in the St. Joseph County courts. It concerned fugitive slaves who were helped by local citizens.
This court case, which became known as the Fugitive Slave Case, was a legal battle over the right of a slave owner to take his runaway slaves back to Kentucky. The slaves had followed the Underground Railroad from Kentucky, across the Ohio River into Indiana, and north to Cass County, Michigan, where they were living as farmers. The owner located the family and recaptured them. As they were traveling through South Bend, on their way back to Kentucky, local citizens came to their rescue and blocked their return to slavery.
The owner brought a court case against the local citizens. He won the case. However, in place of his slaves, he was awarded money equal to their value.
The Underground Railroad
In the 1840s and 1850s, many area citizens, both Black and White, were secretly involved in helping fugitive slaves escape from the South. This complex system was referred to as the Underground Railroad.  It was not an actual railroad, but a secret network of people willing to risk legal action and the possible loss of their own property to help slaves gain freedom.
Residents of St. Joseph County, Indiana, offered their homes, barns and businesses as "stations" or safe places in which runaways could eat and rest as they made their way north. Due to the necessary secrecy of the Underground Railroad, many of the stations and their conductors will never be known.
Most notable among local Underground Railroad conductors was James
Washington, a well-known and well-respected free Black in South Bend. Mr. Washington, a barber, and another barber, Mr. Sawyer, collected money from local citizens to fund the Underground Railroad.  Mr. Washington's barber shop was located on Washington Street in downtown South Bend, over Bartlett's Grocery and Bakery Store. Reminiscences by Charles Bartlett, the son of Mr. and Mrs. Joseph Bartlett, tells of runaways hiding in the family store in the 1850s.
Mr. and Mrs. Joseph Bartlett lived at 720 W. Washington Street. The women of Mrs. Bartlett's reading and sewing circle donated money to support the Underground Railroad.
Most runaway slaves did not stay in St. Joseph County, because Indiana courts upheld fugitive slave laws and fined abolitionists who were caught helping runaways. These slaves were usually returned to the slave owner.  With the assistance of local Quakers and others who were agents or conductors on the Underground Railroad, slaves made their way north to Michigan and on to Canada where freedom awaited.
There were many Quakers living in Cass County, Michigan, who helped the runaways and free Blacks establish new lives. With the support of the Quaker community, former slaves became farmers or small business owners.
African American Settlements in Cass County, Michigan
The Chain Lake Baptist Church is the oldest African American church in our region. It was established in the late 1830s. Here, people worshiped freely and celebrated their freedom.  A walk through the cemetery at Chain Lake Baptist Church reminds us of the many African American families that have lived in this area for many generations.  There is a historical marker at Chain Lake Baptist Church that tells of the role the African American church in the antislavery movement.
In 1846, there were an estimated 100 runaway slaves in Cass County, mostly in Penn and Calvin Townships. In 1850 the U.S. Census for Cass County listed 389 free Blacks living there. This Black community is still in existence today.
The area of Cass County known as Paradise Lake developed into a popular African American community. This beautiful lake property was originally owned by the Bonine family, who had actively supported the needs of local African American families for generations.  Known throughout Michigan, Indiana and Illinois as a summer resort, the Paradise Lake community grew out of the desire for recreational facilities for the Black community, who were commonly excluded from enjoying White-owned businesses and public places.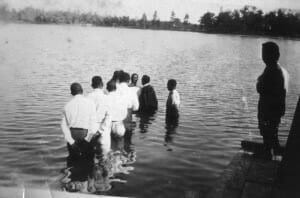 Local churches often baptized their members in Paradise Lake.
At the height of African American settlement in Cass County, the area offered the Gray Hotel, dining establishments, tennis courts, boating, swimming, horseback riding and other leisure activities. These facilities served Blacks, and Whites were also welcomed at these establishments.  Today, the buildings at Paradise Lake stand in disrepair, a silent testimony to a way of life that is now changed. Black families continue to own the lake property and enjoy boating and fishing.
Calvin Center School, a one-room schoolhouse, was attended by both Black and White students. Medora Powell was the school marm at this school around 1900. Medora was related to the Powell family who lived in South Bend, Indiana.  Also located near Calvin Center School was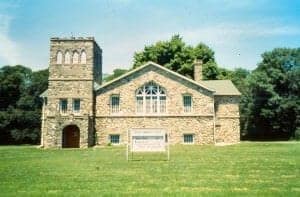 Calvin Community Chapel. This church was built of fieldstones gathered by local African Americans. The chapel grounds served as a gathering place for an annual summer picnic called a "bush meeting." Everyone attended this special summer event.  The "bush meetings" were held in the wooded area behind the chapel. A potluck meal became the traditional fare for these special occasions and was often referred to as a "dinner on the grounds."
Near Calvin Community Chapel and the picnic area is a cemetery where members of the local community were buried. Many of the family names on the headstones are the same as those found in the Nicholsville Cemetery in Volina Township (Cass County, Michigan) and in Porter-Rea Cemetery in Union Township (St. Joseph County, Indiana). This illustrates the strong relationship that has existed between the African American families in these areas.
Along with the Calvin Center School was the Thompson's Corner School. This was also a one-room schoolhouse where both Black and White students from the area attended school. The school master was Bert Riley. The school was located at the intersection of Marcellus Highway and Lawrence Road.
The Powell Family and Early Black Churches in South Bend
In 1850, there were five Black families listed in the U.S. Census taken in South Bend. In 1858, Farrow and Rebecca Powell, their children and their grandchildren bought properties and built homes in South Bend and Mishawaka, Indiana. Their homes were located on the south side of South Bend between South Michigan and Main Streets. There were also Powell family members living around the Cedar Street area in Mishawaka.  The Powells were very active in their church, Olivet A.M.E., as well as in the social and business life of the community. It is interesting to note that Elijah, Colonel and James Powell, sons of Rebecca and Farrow Powell, served in the Civil War. Colonel and James enlisted as Whites (they were very light-skinned).
Farrow (sometimes spelled Pharoah) and Rebecca Powell, along with many of the descendants of the William Bryant family, are buried in South Bend's City Cemetery.

In 1973, students at Pierre Navarre School in South Bend spearheaded a community project to preserve the Powell house that stood at 420 South Main Street. The students, along with many community leaders and historians, wanted to preserve this historic home by moving it to Leeper Park near the log home of St. Joseph County's first settler, Pierre Navarre. Unfortunately, the house was vandalized several times and finally set on fire and burned to the ground in 1980.
Religion has played a very important role in the history of the African American community. Traces of the early churches in South Bend can still be found.
The Olivet A.M.E. (African Methodist Episcopal) Church was the pioneer church in this area. It was organized in 1873 at 310 W. Monroe Street. The Powell family was instrumental in organizing this first African American church in South Bend.  Today, Olivet A.M.E. is located on the east side of South Bend at 719 North Notre Dame Avenue.
The second church built on this site replaced the wood frame building. Today, it is the home of Zion Hill Missionary Baptist Church. It is most commonly seen beyond center field outside Four Winds Field-Coveleski Stadium in downtown South Bend.
Pilgrim Baptist Church, established in 1890, is the oldest African American Baptist Church in the city. Located at 116 N. Birdsell Street, it was originally the Mount Zion Baptist Church. The small wooden frame building was donated to the congregation by the Studebaker brothers. In 1941, the church was renamed Pilgrim Missionary Baptist Church.
Taylor's A.M.E. Zion Church was organized in 1907. At that time it was the only Black church on the east side of South Bend. Today, it is known as the First A.M.E. Zion Church and is located at 801 North Eddy Street.
On West Washington Street in South Bend is a simple, white-framed church. St. Augustine's Catholic Church was founded in 1928 and became the first fully-integrated Catholic parish in the area. The people of St. Augustine's have served the needs of the people who lived in the neighborhood.
Historical research proves that local African Americans have organized and built many churches to serve their needs. In addition to being a place to worship, churches have provided a place for social, cultural, educational and political activities.
African Americans in the Workplace
Many early African Americans in the area were farmers and small businessmen. The 1875 map of South Bend shows the East and West Races along the St. Joseph River in South Bend. Many businesses were located here due to the need for water power. The 1883 South Bend City Directory lists several Black men employed by local industries and Black women listed as domestics. By World War I, more and more Blacks were coming to the South Bend area to work in the growing number of industries in the area.
Factories such as Wilson Brothers Shirt Factory, Birdsell Manufacturing Company, Singer Sewing Machine Company and the F.P. Box Company began hiring Blacks. At one time, the Studebaker Corporation employed as many as 700 Black men and women, more than any other local company. The Oliver Chilled Plow Works also hired Blacks.
During World War II, new jobs were created due to growing industrial production for the war effort. The demand for workers was met by African Americans who moved to the South Bend area from southern states.  Many African American professionals, such as doctors, dentists and lawyers, have lived in South Bend. Others have owned their own businesses, such as barber shops and hair salons, drug stores, funeral homes, restaurants, clothes cleaning establishments, groceries and hotels. The first African American doctors in the area were Dr. Hickman and Dr. Fears.
At West Washington and Walnut Streets in downtown South Bend were the offices of: Dr. C.A. Mott, Dr. V. Gibson, Dr. S. Vagner and Dr. F. Miller. Their offices no longer exist. Dr. Casell Mott made house calls and even after he retired, people sought him for medical advice. Dr. R. Chamblee and Dr. B. Streets also had offices on West Washington Street. Dr. Milton A. Butts' office was located in the same neighborhood at 118 North Walnut Street. Other doctors in the area were: Dr. W. Smith, Dr. H. Bell, Dr. G.P. Curtis, Dr. R. Love and his son, Dr. W. Love.
Rev. James L. Perry established his first pharmacy at 3503 West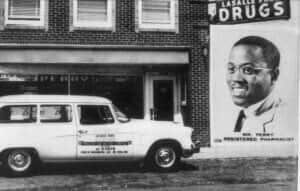 Washington Avenue and moved to 704 West Western Avenue in 1960. Mr. Perry operated the only Black pharmacy in South Bend.
African American lawyers in the area were: J.W. Thomas, Maurice D. Pompey, Zilford Carter, Charles Wills, J. Chester Allen Sr., his wife, Elizabeth Fletcher Allen, Nola Allen Griffin, Charles Crutchfield and J. Chester Allen, Jr.  Elizabeth Fletcher Allen was the first female lawyer in St. Joseph County and the State of Indiana. Along with her husband, J. Chester Allen, she helped form the Allen & Allen Law Firm, one of the first husband-and-wife teams in the area. Many years later, the Allens' son, J. Chester Allen, Jr., joined their law firm.
J. Chester Allen, Sr., was born on Christmas Day 1900, and was the first African American to hold the following positions: President of the St. Joseph County Bar Association, state legislator and member of the South Bend City Council. He was the first African American member of the South Bend School Board. Throughout his career he was active in housing and civil rights issues, and served as attorney for the National Association for the Advancement of Colored People (NAACP). J. Chester Allen, Jr., was the first African American to become a judge in St. Joseph County.
Many African Americans in the area were barbers. Ben Powell and Otto Powell had a barber shop in Mishawaka as early as 1869 on the west side of Main Street. John B. Lott, William Walker, James Jackson and others had barber shops in South Bend. One of these shops was described as having the entire upper floor with a bath and every modern convenience at that time.
Another African American business was Higgins Funeral Home, located on Birdsell Street in South Bend. In later years, the Haynes Funeral Home was located across the street. This was also the home of the television star, Lloyd Haynes, star of "Room 222."
There were African American-owned hotels in South Bend, including the Wilder Hotel and the Liston Street Hotel, both located on Liston Street. In the 1940s, next door to the Liston Hotel, was the Colmer Grocery Store, which was an African American-owned business.
African American Milestones in Education
The first Black school teachers taught at Linden School, located at 1522 West Linden Avenue. They were Peggy Flowers Eskridge and Herbert Lewis, who were hired in 1950.  Edward Myers became principal of Linden School in 1959 and remained there for 13 years. He retired in 1993 after 40 years of service to South Bend schools.  Land was purchased to build a new school on the old Linden School site, but as a result of a court case concerning de facto segregation, the school was never built.  The land was purchased by the South Bend Parks Department from the South Bend Community School Corporation for construction of the Martin Luther King, Jr., Center.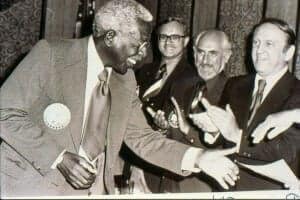 Dickinson Middle School, at 4404 Elwood Avenue, was named in honor of Jesse L. Dickinson, one of the pioneers of civil rights in the State of Indiana. In his early years, Mr. Dickinson worked in a shoe repair business and was a musician. He became a prominent leader in South Bend and in the State of Indiana. In 1977, he was named Indiana's Senior Citizen of the Year.  Mr. Dickinson served six terms as an Indiana State Representative and two terms as a State Senator. He worked to improve housing and mental health services for the poor and to end racial discrimination in education.   Jesse Dickinson was the first Executive Director of the South Bend Housing Authority. He served for 15 years. In Dickinson School's main hallway, there is a display case dedicated to his memory.
Along with education, organizations and clubs have been a vital part of the African American community for many years.
Several African American clubs existed in South Bend. The St. Pierre Ruffin Club was organized in 1900 for the purpose of stimulating culture and the study of literature. Our Day Together Club was organized in 1904 to promote charitable works and the study of good literature. Both of these clubs are still in existence today.
In 1925, Frank and Clarabel Hering gave the Hering House, often referred to as the "House of Hope," to the African American community of South Bend. Located at 726 West Western Avenue, the Hering House served as a center for community activities until 1965, when it closed due to a lack of funding. Hering House served to promote community and recreational activities for African Americans. Many clubs, such as the Teen Club, held meetings and sponsored special events at Hering House.   The H.T. Burleigh music group presented annual spring operas and fall concerts.
Cherry Hall, located near West Washington and Cherry Streets, was used for recreation and special events after Hering House closed in 1965. Many members of the community remember the teen dances which were held at Cherry Hall during the 1950s.
In 1989, Ladies of Distinction, Inc., was organized in South Bend for the purpose of promoting self-reliance, education and unity among people. In 1993 the organization published a calendar featuring African Americans who have made significant contributions to the community.
In 1840, the African American population of St. Joseph County was very small with only nine Blacks counted in the U.S. Census. The numbers grew slowly until World War I and then increased dramatically in the 1940s. The 2004 U.S. Census showed a total population of 265,559 with 30,422 African Americans (approximately 11.5% of the population) in St. Joseph County.
The African American community continues to make important contributions to the religious, economic, professional, educational, cultural and social aspects of Michiana. This brief history is only a glimpse of the rich African American heritage of this area.
[vc_st_media type="video" video_type="html5″ video_width="500″ video_height="350″ mp4="https://historymuseumsb.org/video/FreeLife.mp4″]
Notice:
Users may download material displayed on this site for noncommercial, educational purposes only, provided all copyright and other proprietary notices contained on the materials are retained. Unauthorized use of the Northern Indiana Historical Society d/b/a The History Museum's logo and Web site logo is not permitted.The contents of this site may not be used for commercial purposes, without written permission of the Northern Indiana Historical Society d/b/a The History Museum. To obtain permission to reproduce information on this site, submit the specifics of your request in writing to Director of Marketing & Community Relations, The History Museum, 808 West Washington Street, South Bend, Indiana 46601 or If permission is granted, the wording "provided with permission from the The History Museum" and the date must be noted. However, permission is not required to create a link to the The History Museum's Web site or any pages contained therein.