Facts About Indiana
Origin of the Name "Indiana"
The name "Indiana" simply means "land of the Indians." This refers to the large
number of Indians that were located throughout the state when the first
settlers arrived.
Origin of the Nickname "Hoosier"
Indiana may have been referred to as the "Hoosier State" as early as the 1830s.
There are many explanations as to why we are called Hoosiers. Some of the
explanations are funny, illogical and unbelievable. Here are some of the most
common explanations.
The Who's Here Story-on the early Indiana frontier, log homes were few and far between in the Indiana interior. There were no real close neighbors, so when
someone knocked on a cabin door or was heard coming through the woods,
a person would yell out "Who's here" or "Who's yere." This evolved into the
word "Hoosier."
The Who's Ear Story-this story was popularized by the Hoosier poet James
Whitcomb Riley. In frontier Indiana there were many small taverns and saloons
scattered throughout the state. Continually fights broke out in these bars with
punching, biting, scratching and gouging occurring. The next morning the
bartender was likely to find an ear on the floor of the saloon, nudge it with
his foot and call out "Who's Ear?" This evolved into the word "Hoosier."
The Hoosier River Men Story-Along the waterways of the state there were
bullying and rambunctious Indiana rivermen, always ready for a brawl, who
were reputed to be quite successful in winning all of their fights, "hushing"
their opponents. They became known as "Hushers" and eventually "Hoosiers."
Mr. Hoosier Story-it is said that a contractor named Hoosier liked to hire
Indiana men to work on the Louisville and Portland Canal. These men became
known as "Hoosier's men" and later, "Hoosiers."
Indiana's Governmental Structure
The head of Indiana's government is the governor.
The governor is elected for a term of four years (and can
only serve eight out of every twelve years).
The legislative body of Indiana is called the General Assembly.
It consists of a 50 elected member called the Senate and 100
elected members called the House of Representative The
members of the state Senate are elected for a term of four
years The members of the state House of Representatives
are elected for a two year term.
The Judicial Branch of the Indiana government has five
justices that serve in the state Supreme Court.
Twelve judges make up the state Court of Appeals and circuit
courts. The General Assembly has the right to create new
courts if necessary. Supreme Court justices are appointed by
the governor for an initial two-year term of office At the
completion of the two years if a yes-no ballot decides they are
to be retained, the justices will serve a ten-year term of office.
Circuit courts consist of judges elected by citizens of Indiana
for six-year terms.
Animals That Once Called Indiana Home
Species that once roamed free through Indiana disappeared
as settlers moved in and cleared lands. The following is a list
of animals that use to roam throughout Indiana.
Elk-last seen 1830
Bison-last seen 1830
Lynx-last seen 1832
Red Wolf-last seen 1832
Black Rat-last seen 1845
Black Bear-last seen 1850
Mountain Lion (cougar)-last seen 1851–however, has
been spotted in southwestern lower Michigan
Wolverine-last seen 1852
Fisher-last seen 1859
Gray Wolf-last seen 1908
Porcupine-last seen 1918
Eastern Spotted Skunk-last seen 1920
River Otter (now reintroduced)-last seen 1942
Prairie Chicken-last seen 1972
*Taken from Awesome Almanac Indiana by Nancy Jacobson.
B&B Publishing, 1993.
Indiana Natural Disasters
Tornadoes
Jennings County was in the path of the longest continuous
tornado on May 26, 1917. The tornado began in Louisiana
and traveled 293 miles when it arrived in Jennings County.
In Kouts, Indiana a mansion was picked up off of its
foundation and moved one block without disturbing the
contents inside the mansion. During the two days of the
traveling tornado, 249 people were killed and the damage
added up to $5.5 million.
On April 3-4, 1974, 148 tornadoes hit Indiana in a giant
swath of tornadoes throughout the South and Midwest.
From midnight to 7 a.m., 315 people died and damage was
estimated at over $600 million.
In 1925, 689 people were killed in a giant tornado that only
lasted five hours. The small town of Princeton, Indiana was
totally destroyed. The cost of this tornado exceeded $500
million. The number of deaths were of those found; many
people never were located.
On April 11, 1965, 35 tornadoes crossed northern Indiana.
Of the 271 killed, 130 came from Elkhart, Goshen, Ft. Wayne,
Dunlap, Marion, Kokomo and Lebanon, Indiana.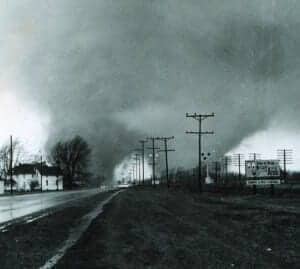 Floods
In 1937 the Indiana residents along the Ohio River endured a
flood that reached 53.74 feet above flood stage. Forty-six
percent of the town of Evansville, Indiana was under water.
No record has survived (or even been made) as to how many
casualties there were because of this flood. Thousands of
Hoosier were left homeless and property damage was likely
in the millions of dollars.
Actors and Actresses Who Have Called Indiana Home
Steve McQueen-born in the town of Beech Grove, March 24,
1930
Florence Henderson-native of Dale, Indiana. Known as Mrs.
Brady on the Brady Bunch television series.
Will Geer-born March 9, 1902, in Frankfort, Indiana. Known
as Grandpa Zeb Walton on The Waltons television series.
James Dean-born February 8, 1931, in Fairmount, Indiana.
Movie actor in East of Eden and Rebel Without a Cause. Died
September 30, 1955 in an automobile crash. Buried in Park
Cemetery in Fairmount, Indiana.
Carole Lombard (Jane Alice Peters)-born in Fort Wayne,
Indiana. Actress in several movies and wife of Clark Gable.
Died in an airplane crash in 1941 after visiting Indianapolis.
Shelly Long-born in Fort Wayne, Indiana. Portrayed Diane
Chambers, barmaid, in the long-running television series
Cheers.
Karl Malden (Malden Sukilovich)-born in Gary, Indiana on
March 22, 1914. Actor who has starred in many motion
pictures and television series. Portrayed Omar Bradley in the
Academy Award winning movie Patton.
Sydney Pollack-all-time great director was born in Lafayette,
Indiana.
Howard Hawks-born in Goshen, Indiana. Famous director of
movies, of his most famous were Dawn Patrol and Sergeant
York.
Richard "Red" Skelton-born in Vincennes, Indiana in 1913.
Famous comedian and professional clown.
David Letterman-born in Indianapolis, Indiana on April 12,
1947. Famous talk show host.
Jane Pauley-born in Indianapolis, Indiana and replaced
Barbara Walters on the Today Show. Co-host's NBC's
Dateline documentary television series.
This is not a complete list of famous acting Hoosiers.
Famous Indiana Musicians
John Cougar Mellencamp-born in Seymour, Indiana.
Currently lives in Bloomington, Indiana.
Bill Bailey (known as Axl Rose)-born in Lafayette, Indiana.
Lead singer for the rock band Guns n' Roses.
Janie Fricke-born in South Whitley, Indiana. Country music
singer.
Cole Porter-born in 1892 at Peru, Indiana. Famous musician
and early jazz star. Died on October 15, 1964 after routine
operation for kidney stones.
Hoagy Carmichael-famous composer and musician born in
Bloomington 1899.
Michael Jackson and the Jackson Five-all born in Gary, Indiana.
Formed the famous brother group in 1966. Died in California
on June 25, 2009.
Steve Wariner-born in Noblesville, Indiana. Grand Old Opry
country star very popular during the 1980-1990s.
Bill Gaither-born in Alexandria, Indiana. American singer and
songwriter of southern gospel and Contemporary Christian
music.
Bobby Helms-born in Bloomington, Indiana. Writer and singer.
Made famous by his Christmas song, "Jingle Bell Rock."
Crystal Gayle-born in Wabash, Indiana. Country singer.
David Lee Roth-born in Bloomington, Indiana. Lead singer for
the rock group Van Halen.
Deniece Williams-born in Gary, Indiana. R&B singer.
John Hiatt-born in Indianapolis, Indiana. Singer and songwriter.
Joshua Bell-born in Bloomington, Indiana. Classical violinist.
Wes Montgomery-born in Indianapolis, Indiana. Jazz guitarist.
Notice:
Users may download material displayed on this site for noncommercial, educational purposes only, provided all copyright and other proprietary notices contained on the materials are retained. Unauthorized use of the Northern Indiana Historical Society d/b/a The History Museum's logo and Web site logo is not permitted.The contents of this site may not be used for commercial purposes, without written permission of the Northern Indiana Historical Society d/b/a The History Museum. To obtain permission to reproduce information on this site, submit the specifics of your request in writing to Director of Marketing & Community Relations, The History Museum, 808 West Washington Street, South Bend, Indiana 46601 or If permission is granted, the wording "provided with permission from the The History Museum" and the date must be noted. However, permission is not required to create a link to the The History Museum's Web site or any pages contained therein.